The Father of the Plug: Gerald Vander Lans' "Rubber Company in the Plug Business" Celebrates 60 Years of Success
by Angus W. Stocking, L.S.
Though it starts in Holland, where an experimental rubber sewer plug passed from one brother to another, the 60th anniversary of Vander Lans & Sons, Inc. (known as Lansas Products, or simply Lansas) is the most American of success stories, a tale of new immigrants, garage inventions, perseverance, dairy cows, & a family business that ultimately reshaped an entire sector of infrastructure. "My uncle was in the sewer business in Holland, & he'd been experimenting with rubber plugs," President Gerald Vander Lans, Sr., explains. "He gave one to my father & said, 'See what you can do with it.'"
Quite a bit, as it turned out, but it took a while. At the time, Gerald had already left Holland; "I came over before my father, when I was 19. I ended up in Canada, with $35 in my pocket. My dad came over a year later, with the plug." Eventually the family ended up in the United States. Gerald milked cows for a while, then started working for Holz Rubber in Lodi, California (Holz Rubber, incidentally, is celebrating its 80th anniversary in 2015). "I started at Holz because I needed a job, but it turned out to be a lucky choice." While working at Holz Rubber, Gerald systematically acquired the skills and knowledge he needed to make his own products and in 1955, with the friendly support of Bill Holz, he started his own business. To this day, Gerald describes Lansas Products as, "…a rubber company in the plug business, not a plug company in the rubber business."
"I always say I'm a rubber man," Gerald says, with evident pride. "I've been in rubber a long time, and I know what can be done with rubber. That's important; when I've seen a problem in the sewer industry, and come up with an idea that solves that problem, I don't have to figure out how to make it. I already know how to make it."
That emphasis on making is one of the most important factors in Lansas' 60-year success story—Gerald invented and patented several early innovations in sewer plugs and joint testing and his son, Vice-President Eric Vander Lans, continues the tradition with important contributions to the design of vacuum testing equipment and multi-size plugs.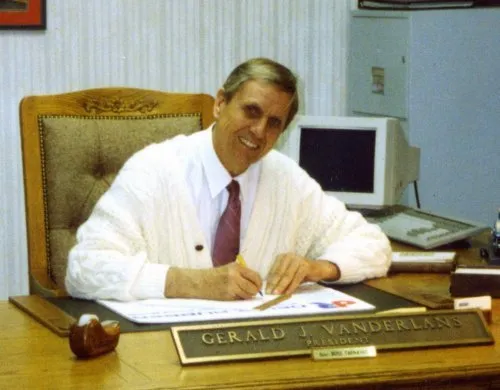 Like Bill Hewlett and Dave Packard in nearby Palo Alto, Gerald Vanderlans and his wife started their business in a Lodi garage, making and testing new products. It was a risky, scary time for a 22 year old with very little capital; Gerald would often work late into the night, and use a roll of rubber for a pillow when he needed a nap. Disc plugs were one of the first products sold, and are still in production; "We ship some every day," Eric says. But Gerald really made his mark with early contributions to a technology that was just getting started—air testing of pipe and joint integrity. "My dad started working with Pacific Clay Pipe Institute in the 1950s, devising the plugs and methods needed to test the integrity of pipe sections," Eric explains. "And that led to joint testing equipment, and several patents."
This basic idea—the use of rubber plugs in various configurations to isolate sewer sections for testing by air, water, or vacuum—became a cornerstone not just for Lansas, but for the entire sewer industry. Try to imagine a world where sewer rehabilitations still require excavation from manhole to manhole, because failures and leaks can't be located precisely. Given the importance and expense of municipal wastewater systems, Lansas' sewer plug innovations have undoubtedly saved cities huge amounts of money and time. And it's not just sewers; Gerald has patented joint testing systems for use in nuclear power plants, based on plugs that are lighter in weight and more effective than previous solutions.
So, it's entirely accurate to say that Gerald's genius with rubber has made life safer and more comfortable for millions of people. Even he seems surprised at times; "I was born in 1933, went through the war, and got my first job when I was eleven years old—you know how it is," he reminisces. "I never did get much schooling. But I was happy working with my father, and I learned that if something needed to be done, I could do it."
He has gifts, to be sure; "If a customer has a problem, I can follow that problem in a sewer line—I have that ability, I can see it. And without drawings, or an engineering background, I can come up with a design, and make it." Likewise, when negotiating the complexities of the U.S. patent system, he says; "I just figured it out myself."
In addition to plug and air testing designs, Gerald has also pioneered manufacturing methods that make Lansas plugs sturdier, more cost-effective, and easier to repair. These include: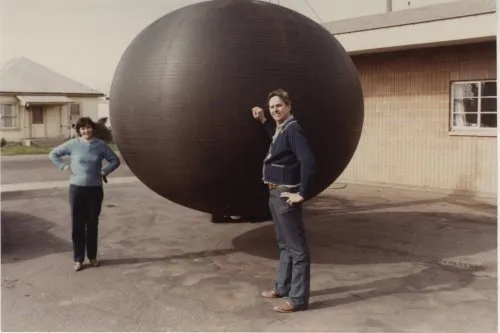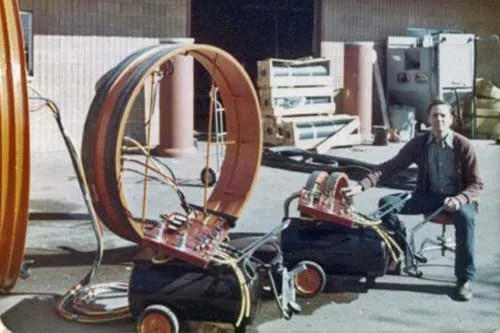 • Cross Bias: Like plied tires, most Lansas rubber plugs are backed with two layers of fabric with the lay of the fabric, the bias, at right angles. This makes the rubber ply stronger, and prevents rips and holes from spreading through the whole plug. "When plugs are punctured, which is inevitable given some sewer conditions, rips will be just a few inches," Eric explains. "So we're able to repair them at a reasonable cost, and get them back to their owners—we repair and ship several a day."
• Split Cord and Spider Ring: Split cord is a way to reduce the amount of excess material that buckles up when a cylinder of rubber is closed off to form a plug end. The rubber ply is cut into strips that can be overlapped to make a stronger, less bulky plug. The spider ring, patented by Lansas, is a steel and fabric ring used to cinch up the split cord plug ends strongly and efficiently.
Reading through the above, and looking at the Lansas catalog, one could easily assume that the firm is focused on mass production of relatively few, high quality items. But in fact, Eric says, "We really started as specialists in custom rubber products, and we still focus on that." This includes thousands of special-situation plugs, like the 21-foot diameter joint tester crafted for an Arizona water project; "It's the biggest we've ever made. Our bladders are made in one piece, and the rubber needs to be cured," says Eric. "So we built what amounted to a huge autoclave, and used steam, nylon wrapping, and a few other tricks to apply the heat and pressure needed."
Customization also includes more unusual rubber items, like custom motor mounts for a Model-T restoration and inflatable houses used by a paint company to demonstrate paint flexibility. Eric recalls a request that seems to have touched his heart; "A paraplegic gentleman came in once, asking for a rubber seat for his wheelchair. We made an adjustable-pressure water-filled seat, like a waterbed, and no charge for that one. He was so happy." This focus on custom products, on retaining the ability to make anything needed, has practical benefits in addition to simple profit. Lansas keeps a large inventory of specialized rubber products and tools on hand to solve customer problems, and is constantly exposed to new challenges that keep their manufacturing skills in peak form. Ultimately, this is a source of continued sewer industry innovation.
A Family Business, Made in America
By the late 1950s and early 60s, Gerald's gift for innovation and his ability to solve customer problems had produced a variety of sewer plug products that were in great demand, and business was good—very good. And by this time his older son, Gerald Jr. was also helping out. But the Lansas 'corporate offices' and manufacturing facilities remained in the home garage until 1971, when the City of Lodi informed him that a thriving sewer product factory in a residential area was no longer acceptable. Eric Vander Lans explains what happened next: "Dad found a property at 1320 S. Sacramento, a cul-de-sac really, and we started with one big building there. Now, we have the metal fabrication in one building, the rubber and the offices in another, plus Lansas owns the actual street and we have a wrought iron fence across the cul-de-sac entrance. It works well, and we also have 13,000 square feet of warehouse space across town." There are other storage facilities across the country, and some mechanical plugs are made elsewhere, but the great majority of Lansas' pipe plugs and sewer accessories are still made in Lodi, and the company makes many of its own fittings and parts as well.
Made in America for 60 years, by a business that is still family-owned. Eric represents the current generation of Vander Lans' management, and his entry into the business is interesting. "My dad always anticipated that I would enter the business, but I wasn't so sure—I was attracted to law enforcement, and went to school for that. But after a few years I wondered if that really was the path for me. So in 1987 I took a few years off to give rubber a try. I never left." In the best tradition of family businesses, Eric started off doing the "worst jobs" and worked his way up. "I think I've built everything we make, and I helped with the design of some of our new products." That broad, deep experience helps Eric with management of the firm, and it also made him an inventor in his own right. He's been instrumental in the development of new equipment and procedures for vacuum testing, and developed patents applying to medium pressure, multi-size plugs.
As for Gerald, "I'm 82, and still fooling around here. We still make specialty products, and those are the ones I tend to get involved witsh. I still enjoy being in the shop, talking to people and discussing ideas."
When asked about his legacy, Gerald says, "You know, I'd like to be known as the father of the plug. I invented and made most of them, and have the patents to prove it. A lot of people are making them now, and I don't know if they're better or worse. I do know we've been doing this for sixty years—that's sixty years we've spent solving customer problems with good ideas and quality products. So that would be nice—I hope I'm remembered as the father of the sewer plug."
Angus W. Stocking, L.S. is a licensed land surveyor who has been writing about infrastructure since 2002.

Custom Designs Are
Always™
Available!